Are you looking for a restaurant with delicious dishes, special taste and beautiful space?
Maison Man-Do restaurant located at 27J Tran Nhat Duat, Tan Dinh Ward, District 1 serving a variety of Vietnamese and Western dishes will be the best indulgent experience for you to consider.
General characteristics of Western dishes
Occidental or Western culinary culture is the art of selecting, preparing, serving food associated with a specific culture and geographic region. Although each country in Europe will have its own food culture. In general, the materials and processing methods have many similarities. This is influenced by natural resources, climate and customs.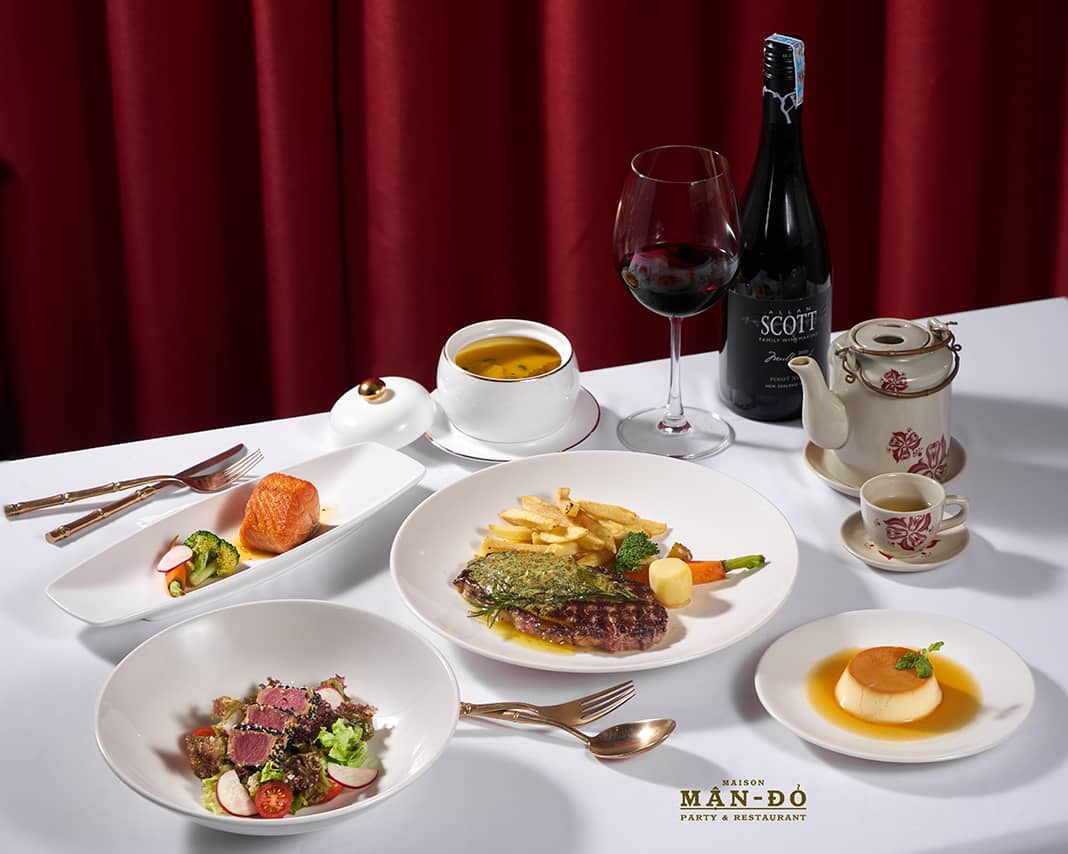 So what are the things that make up your culinary culture? That is:
Ingredients used
The ingredients commonly used in Western restaurants are lobster, scallop, beef steak, salmon, foie gras, cod, bacon, crab, potato, asparagus, tomato, avocado, brussels sprout, etc. Vietnamese restaurants use many ingredients rarely seen in Western cuisine, i.e., betel leaf, ong choy vegetable, bitter melon, gourd, lotus, young bamboo shoot, tofu, pork belly, frogs, feet, etc.
Processing / Cooking methods
Different from Asian traditional processing methods which are very diversified, i.e., braising, boiling, quick frying with wok, steaming, sautéing, stewing. Western cooking methods somewhat limit themselves to boiling, pan frying, roasting and baking. Besides, Western will keep the whole piece of fish or meat, rarely chopping it into bite size pieces like in Asian cuisine. Not to mention Asian cuisine doesn't remove bones, whereas Westerners usually enjoy fish filet or boneless meat.
Seasoning and Spices
Limiting unnecessary seasoning, prioritizing the combination of natural flavors in ingredients to create a cool taste for the dish is the most outstanding culinary culture of Western cuisine. You can easily see that the chefs when cooking Western food almost only use salt, pepper, herbs and rarely use other spices. Whereas Vietnamese cuisine will likely be choosing spices to balance out the yin and yang elements in the dishes with ginger, garlic, chilies, lemongrass, fish sauce.
Dish plating
Western plating is usually a piece of art and presents a lot of freedom in creativity. The chefs can create their own plating as long as they look good. Each course will be placed on a big plate for individual servings. Westerners are used to enjoying individual servings rather than sharing dishes with others, whereas Vietnamese have meals communally and share the dish with surrounders.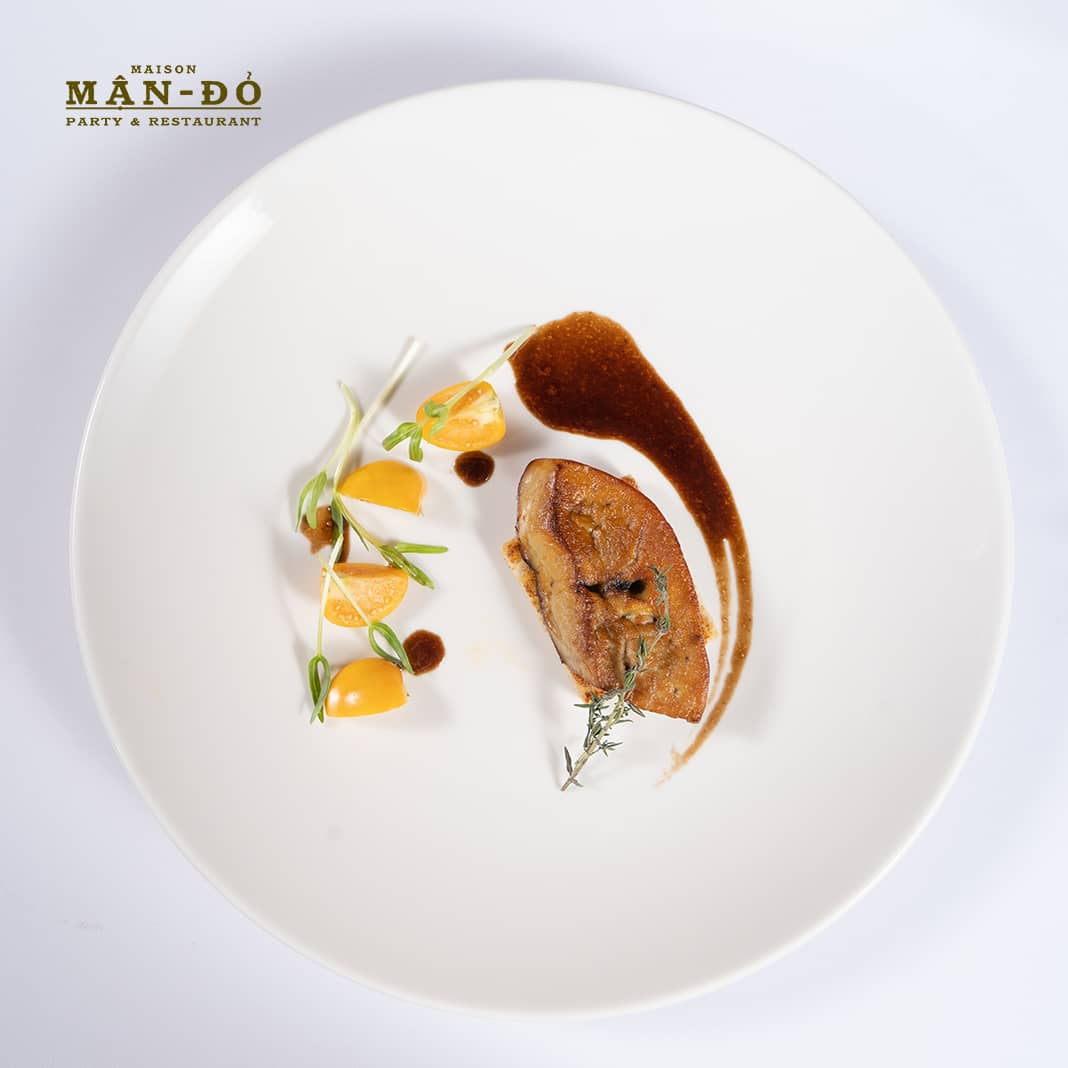 The style of meal
A set meal in Western culture will include 3 to 6 courses, entree such as soup or salad or both, one or more intercourse, one to two main courses of meat or seafood, dessert, and cafe. Some cultures also add cheese before dessert. When having dinner at a Western restaurant, the spoons and forks silverwares will be arranged from outside to inside on both right and left. Just use them for each course from outside to inside.
Some Western dishes you should try
Beef steak
Steak of beef is not only a favorite dish of the majority of Westerners, but even when introduced to Asian countries, it becomes popular as well. The reason this dish is so popular with most people is because of the way it tastes when people savor it in their mouth. When crushed between an upper and a lower molar, steak delivers flavour, tenderness and juiciness that no other meat has. The tenderness of a steak varies according to the cooking temperature. A steak can be cooked blue, rare, medium rare, medium, well done depending on people's preference.
Each restaurant will also have a sauce that goes with the steak, and most of the time it is a signature sauce.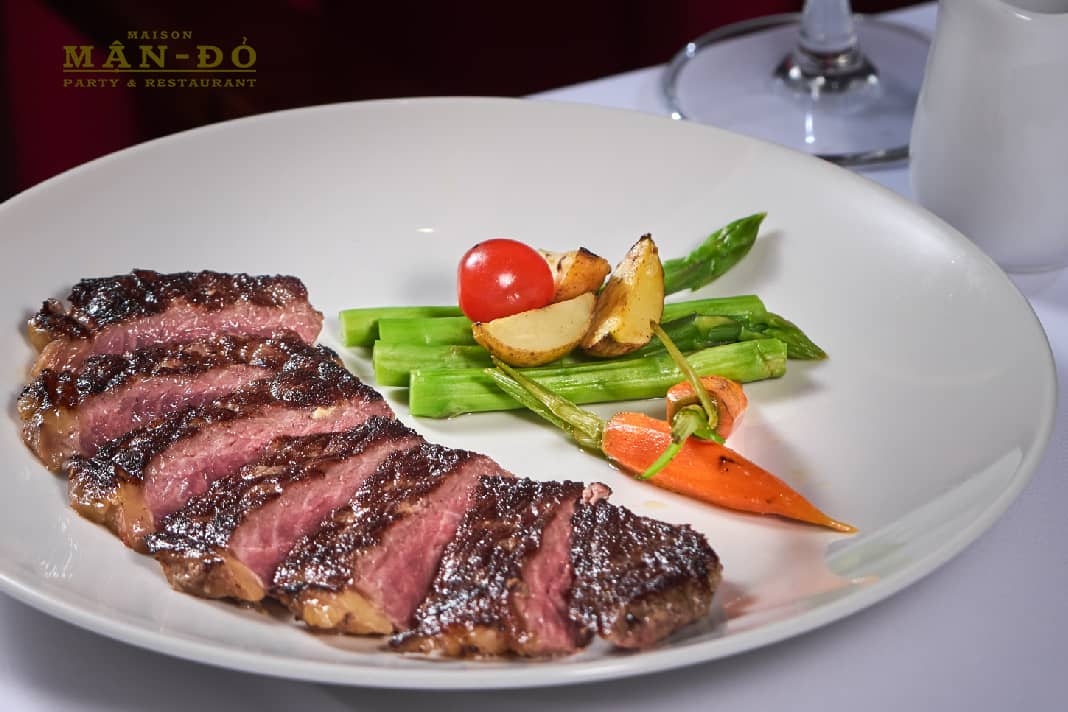 Salmon
Salmon is a good source of protein, important for the body. It helps to maintain bone health, preventing muscle loss and helping body repair. For its benefits most Westerners love to cook salmon. So what are the amazing recipes that go with salmon? The salmon can be pan fried, steamed, deep fried, raw, and Vietnamese restaurants also use salmon in soup. Some of the delicious Western sauces that go with salmon are lemon butter sauce, Spanish red sauce. These sauces, often citrusy and buttery, will add much more taste and fragrance to the mild-flavored fish.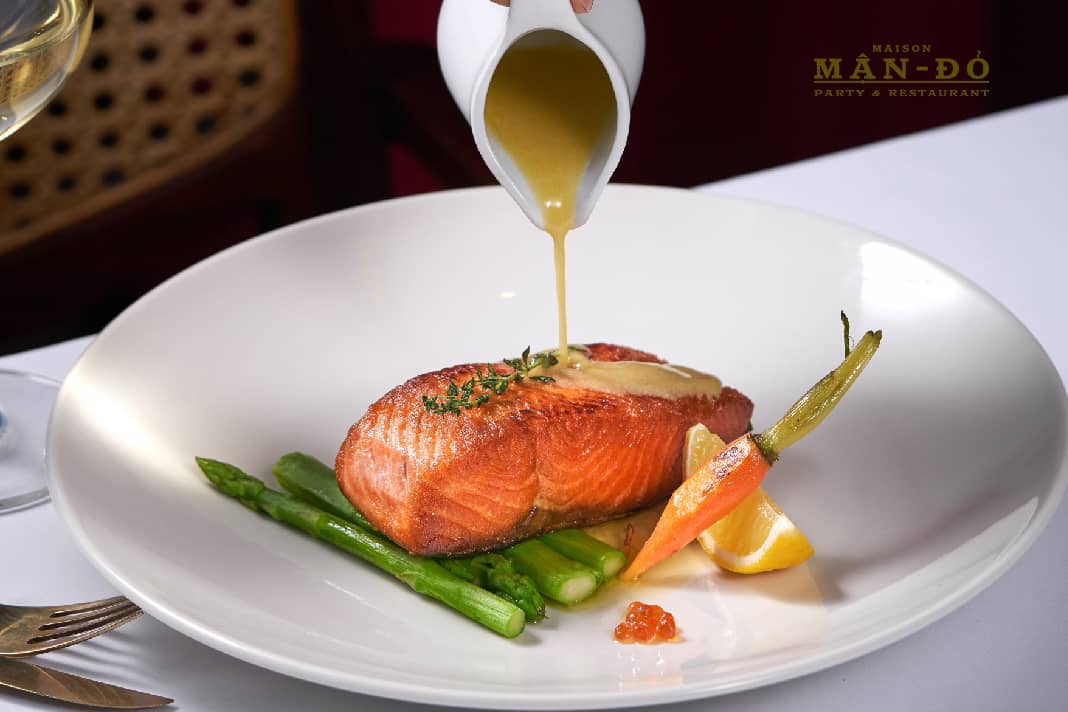 Rock Lobster with cheese
The combination of seafood and cheese is never a mistake especially with lobster. If you are a fan of seafood, then you should never miss "Grilled cheesy lobster" in a restaurant. The contrast between fresh, rich, buttery, fluffy, sweet lobster meat and melty, slightly tangy sharp mixed three kinds of cheese is the succulent in the mouth. 
Spaghetti chimichurri
You all heard about spaghetti bolognese, spaghetti pesto sauce, spaghetti carbonara, etc. All of those classic Italian dishes are some of the best dishes in the world. Besides those classic spaghetti, some restaurants also introduce spaghetti chimichurri sauce to their menu. This special sauce is somehow similar to the pesto sauce, but with a little bit more herbs and chili make it more exotic in taste.
Maison Mận-Đỏ Restaurant with delicious Western dishes
Maison Mận-Đỏ restaurant is prominent with delicious Western food that are prepared by experienced chefs, using quality international standards ingredients. You will be assured that serving dishes are always the greenest-clean-taste.
The outstanding dishes served at Maison Mận-Đỏ restaurant are: Grilled cheesy Lobster or garlic lemon butter lobster, Japanese Scallop, Foie Gras Apple Sauce, Australian Wagyu Steak, Seared Japanese Wagyu, Grilled Lamb Chops with craft herbs butter, Seared lemon butter Toothfish, Seared salmon Spanish red sauce.
Visiting to Maison Mận-Đỏ restaurant, beside the delicious Western dishes, you will be surprise with cozy elegant East meet West interior design. There are especially private rooms at request for private dinner with partners or family.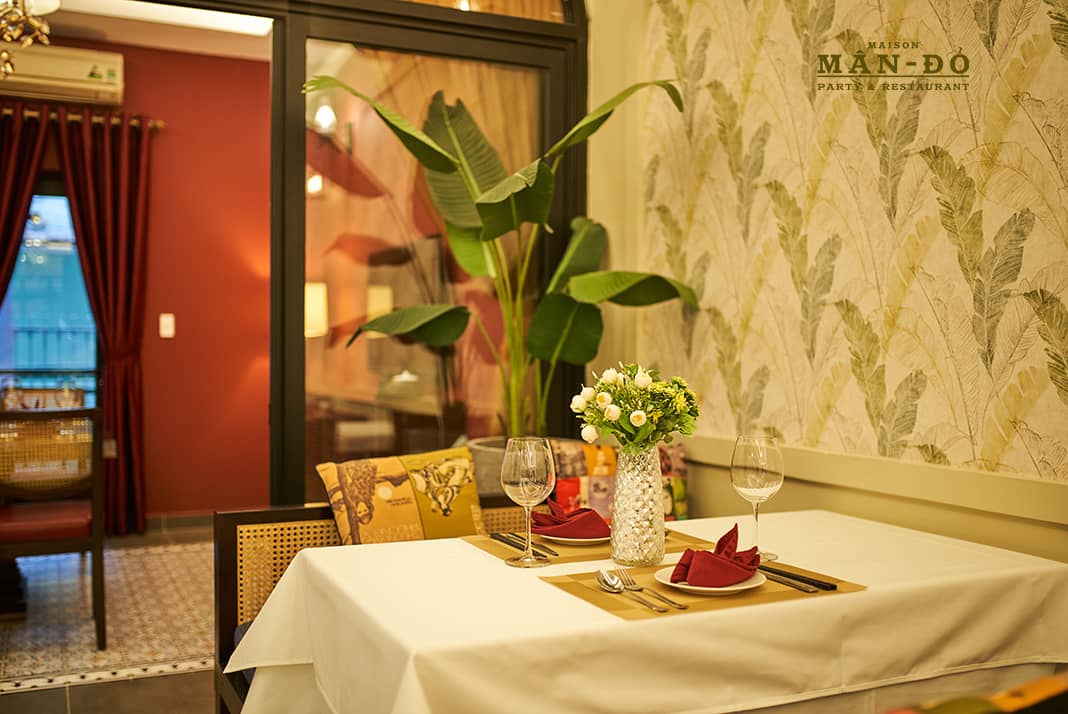 Contact Hotline 0933 77 44 87 for advice and to book a table.