Every New Year comes. Every family holds a year-end party and so do businesses. If you are looking for a restaurant with an indulgent premium dining experience with emotional architecture, you can't miss Maison Mận-Đỏ restaurant.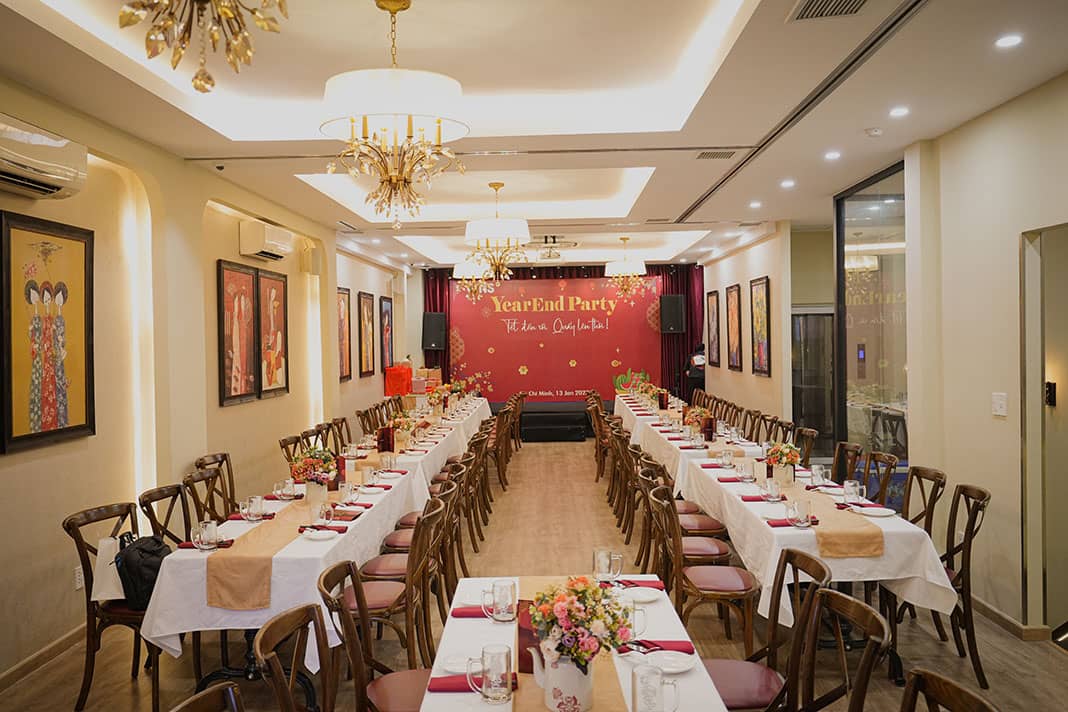 What is a year-end party?
The year-end party is a long-standing custom of Vietnamese culture, held on the last days of the lunar year. Year-end party means summarizing the past year and welcoming the coming new year. Accordingly, each family, when organizing a year-end party, must present an offering of food and a cake tray to the ancestors, and to heaven and to the earth. When the offerings are finished, the family can invite guests to sit and attend the party.
To this day, the year-end party has a broader meaning when it includes the year-end party of companies and businesses. When organizing a year-end party, the company will rarely organize it at work, but will choose restaurants specializing in providing year-end party services. At the restaurant, of course, there are no offerings to ancestors or heaven and earth. The company's year-end party is simply a party to look back on the past year, acknowledge the contributions of the employees, promise new futures of the company and interact with each other.
The process of organizing a year-end party
Raising ideas
Make a guest list
Determine the date and time the party will occurs
Choose a restaurant venue
Choose a theme for the party
Preparing stage performances
Make party detailed activities and speeches
Find staffs to be in charge of the party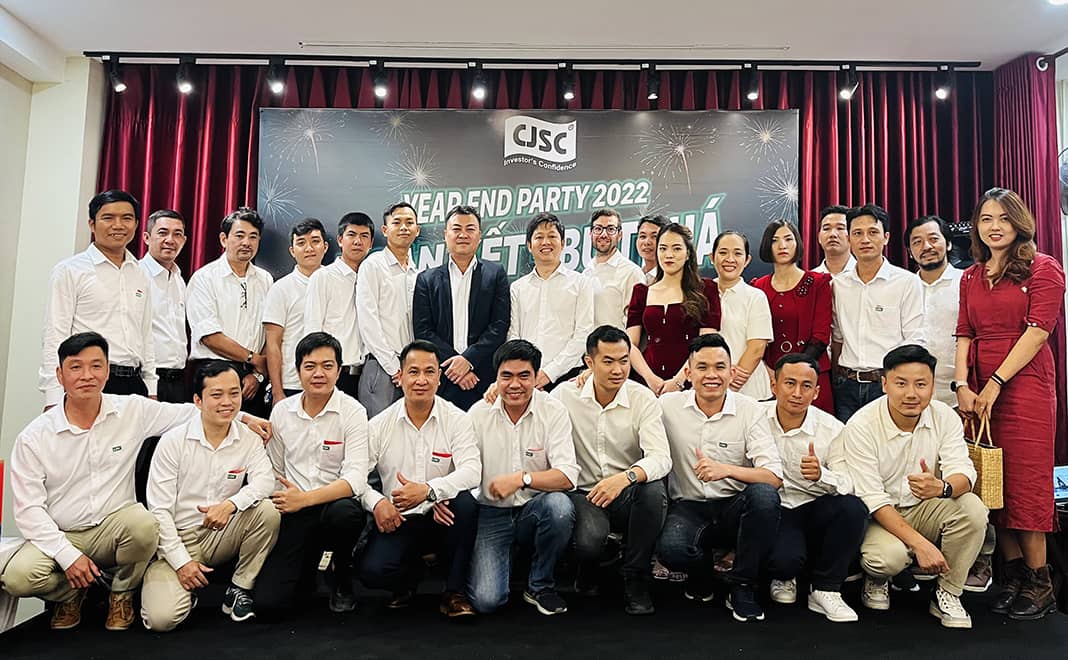 Where to hold the year-end party?
Depending on your needs and preferences, you can choose to hold a year-end party with an outdoor or indoor venue. Each venue has weaknesses and strengths.
Cool outdoor year-end party: Organizing an outdoor year-end party when the spring air is coming, will bring a feeling of coolness, comfort, and chilled. Especially when the number of guests are high, the outdoors may provide more space for chat and play.
Small year-end party in a cozy indoor venue: Suitable for parties that need a private and cozy space, for intimate meetings with friends, family and relatives.
Although located in the city center, Maison Mận-Đỏ restaurant in District 1 provide venue for small new year parties with sufficient outside space for smoking and taking fresh air and many air-conditioned indoor venues to fit your needs.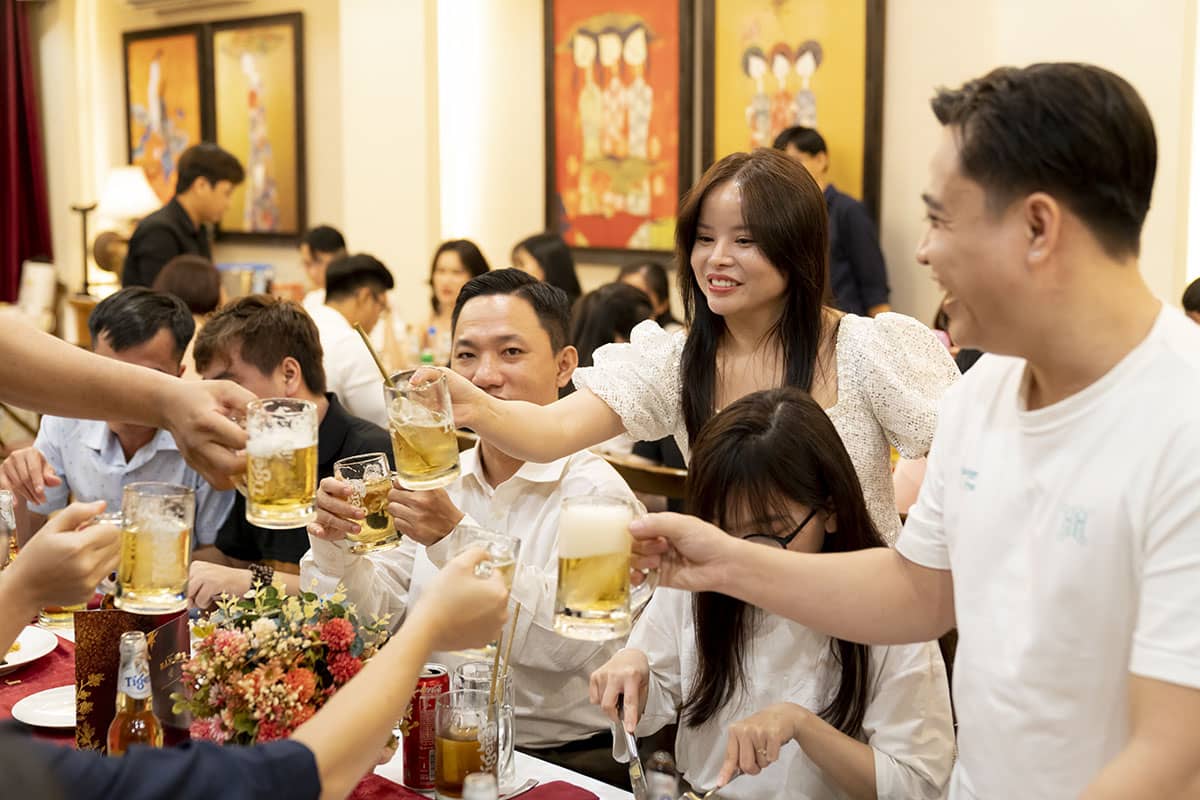 Some year-end party dishes at Maison Mận-Đỏ Restaurant
Maison Mận-Đỏ Restaurant showcases quality contemporary ingredients in his creations with an authentic yet innovative approach by staying true to the philosophy of Vietnamese cooking while incorporating East meet West culture. The restaurant provides indulgence premium dining experience and fits all requirements for dinners and events whether corporate or private.
Some dinner sets celebrate the tale of crafts and intersection of culture, the intersection of East meet West.
Asian Soups with Superior Stocks Topping With Fish Maw, Japanese Scallops, Abalone or Western Pumpkin Soup with Bacon.
Mixed Green Western Salad or Vietnamese Salad Topping With Choice of Bacon, Japanese Scallops, Seared Sesame Tuna, or Crusty Soft Shell Crab, Grilled Shrimps, or Seared Abalone.
Celebrate many starters such as:

Crab Rolls, Beef Betel Leaves, Salted Yolk Egg Soft Shell Crab, Fish Pepper Abalone, Fish Sauce Squids
Cheesy Japanese Scallops or Cheesy Tropical Rock Lobster, or Cheesy Shiitake Mushrooms
Seared French Foie Gras Applesauce is one of the delicacies as well.

Many indulgent main dishes of seafood and meat:

The Five Spices Duck, the Spanish Roasted Chicken, the Lambs Racks, the Australian Steak with Creamy Mushrooms Sauce or the Homemade Herbs Butter, or the Fondant Japanese Wagyu A5 are all delicacies.
The Spanish Atlantic Salmon, the Baked Tropical Rock Lobster Herbs Garlic Butter, the Scallops and Foie Gras with the special Soy Pepper Sauce, and the very fine Steamed Patagonian Toothfish with Soy Sauce.

Many other mains dishes served with steamed Rice that stay very true to the Vietnamese Meal of old time.

Ginger Duck, Lemongrass and Chili Chicken, Dishes with Tofu and Vegetables, the Sweet and Sour Squids, the Crystal-Eyed Catfish, the Caramelized Shrimp and Pork Belly, the Wok Tossed Diced Beef, etc…
And of course for the party, Asian favorites are hotspots such as Sour Bamboo Salmon hotpot, Northern Crab Paddy and Shank Beef Hotpot, the "La Giang" Farm Chicken Hotpot, the Crystal-Eyed Catfish hotpot, or the Superior Abalone Herbal Hotpot.

Some other grand dishes that fit to special events:

Whole Atlantic Salmon Roll with Bacon
Roasted Turkey
Steamed Red Snapper
Steamed Cold Chicken
Wellington Beef
….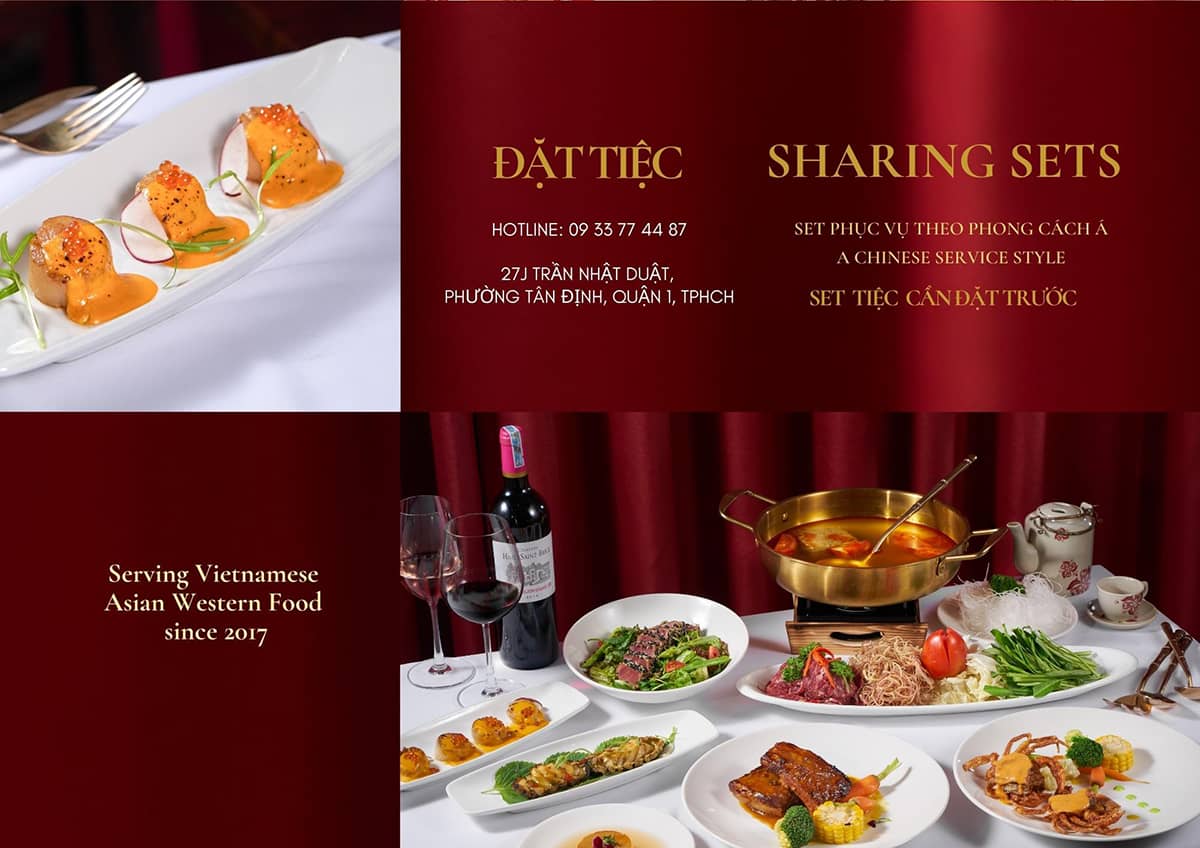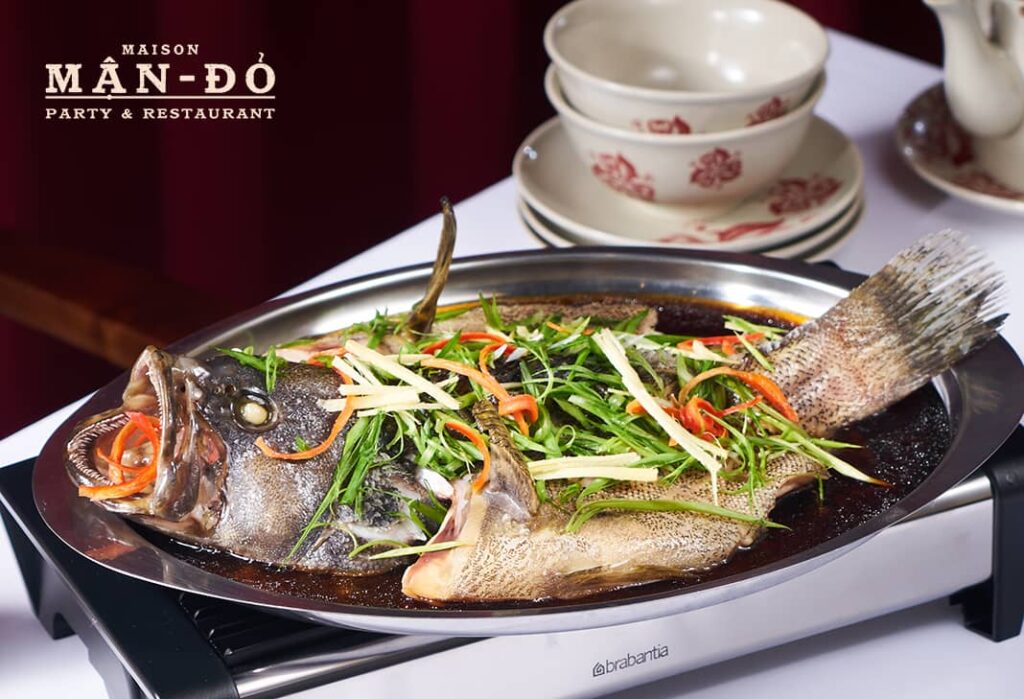 Seven (07) reasons for holding a year-end party at Maison Mận-Đỏ Restaurant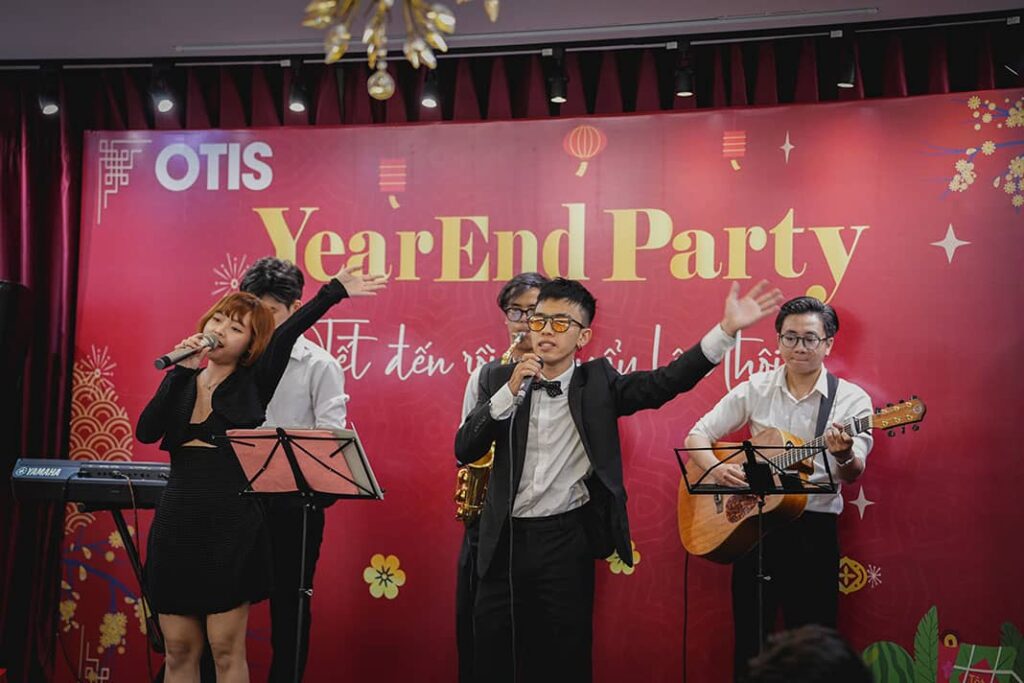 1. Cozy space
The true meaning of a year-end party is an opportunity to gather, help connect and reconcile the problems encountered in the past year. A cozy space is the ideal choice to bring members together. Maison Mận-Đỏ Restaurant with its design in red velvet and the use of tables, chairs, and hard wooden decorations has created a space reminiscent of family that helps us calm down amid the hustle and bustle of life.
Besides, with many private rooms, the restaurant also accepts reservations for private parties for customers who like calm and intimacy.
2. Diverse dishes in Vietnamese Contemporary Cuisine
Let Maison Mận-Đỏ Restaurant serve you the most delicious dishes with premium ingredients, ensuring freshness and food safety. Each dish at the restaurant is prepared by professional chefs.
3. Professional and friendly service
Our experienced staff are always happy and dedicated to taking care of our customers.
4. Decoration service for parties
No need for extra steps to call a decoration service, no need to waste your time. Maison Mận-Đỏ restaurant accepts decorations according to customers' requests for all themes.
5. Full technical equipment
To make the party more vibrant and memorable, we need some pictures, lights and some melodious music or lively ambience. Maison Mận-Đỏ restaurant has enough technical equipment to help make a professional year-end party.
6. Location near the center, easy to move to
Maison Mận-Đỏ Restaurant is located on 27J Tran Nhat Duat Street, Tan Dinh Ward, District 1, Ho Chi Minh City. Because it is located in the central area of ​​Saigon, guests can easily find it and save travel time.
7. Venue specializing in year-end parties and end of the year celebration
Every year, at the end of the year, Maison Mận-Đỏ restaurant is honored to be the place chosen by many businesses and organizations as a place to hold their year-end party or the end of the year celebration.