You are about to propose to that special someone, and do not know what to do and how to organize a proposal party. In addition to flowers and candles, the proposal party needs many other things to create a romantic atmosphere. To help you successfully propose, Maison Mận-Đỏ restaurant is here to assist you in creating that magical moment that makes your partner say "Yes I do".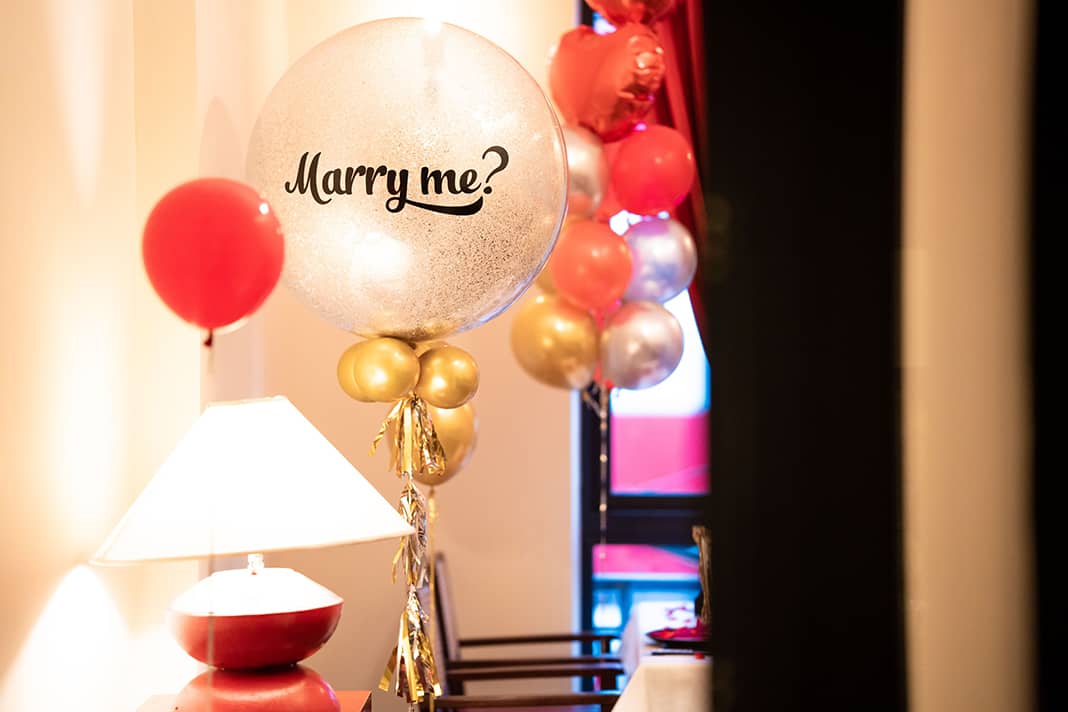 What is a proposal?
Couples fall in love with the goal of getting married. Romance plays a significant role in a lasting relationship. A marriage proposal is a step that cannot be omitted. A marriage proposal happens when one member of the couple asks the other for their hand in marriage. When accepted, they both agree to an engagement of later marriage.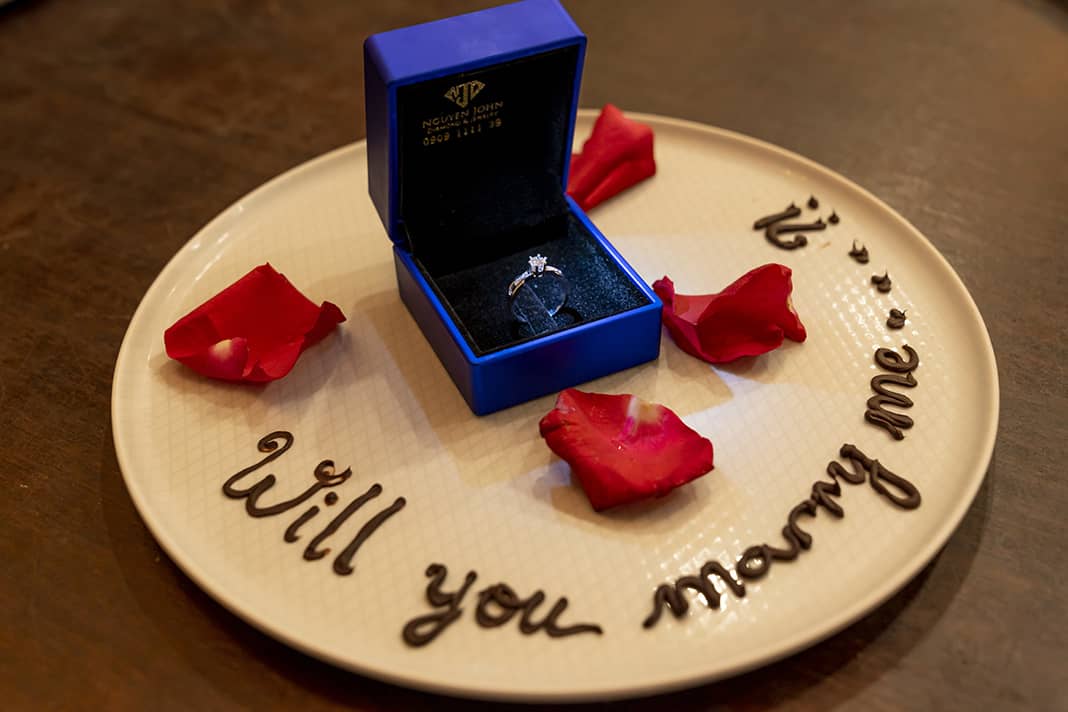 Popular ways to propose
Unexpected proposal in a beautiful space: You take her out as usual, to a beautiful place where you suddenly confess your love to her. This is the simple way to do it.
Proposing in a significant place: You and her have secret places that only the two of you know, or places that mark your feelings. Take her there and propose with flowers and a ring, the familiar space can help her bring back good memories.
Proposing in public: You want to show the world how much you love her. You choose to propose at a pedestrian walkway, amusement park, commercial area or park. You can surprise your love with teddy bears, flowers and rings. You can invite friends and relatives to witness and give blessings.
Proposing at the restaurant: You choose a restaurant with a private room and invite her to dinner, you order a romantic decoration package with scented candles, roses and cakes. Suddenly you propose to her while eating dessert or at the end of the night. Proposal parties should be chosen on special days such as her birthday, anniversaries…
Proposing on a trip: when it's only the two of you, the feeling of being dependent in a strange place will make her feel that you are a reliable person. Gently confess your love to her at this time.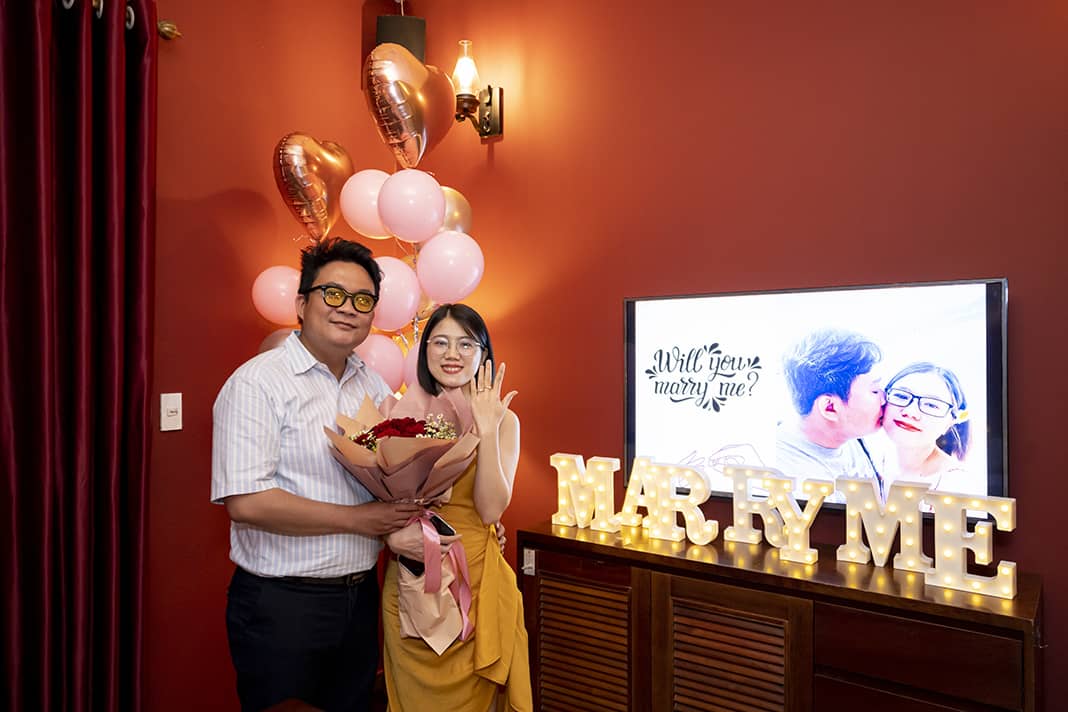 The meaning of marriage proposal
To show respect to your partner: When you put in the effort, it shows that you are serious about your relationship.
Desire to have a long lasting commitment with a marriage: when you are respectful and serious in the relationship, you decide to propose, it means you have been planning to get married. You have expressed your desire to have a good marriage with the person you love.
You are a romantic and loving man: Only romantic and loving men take the initiative to propose to their girlfriends.
Mark for a good outcome of a love affair: a good outcome of a love affair is to propose and get married.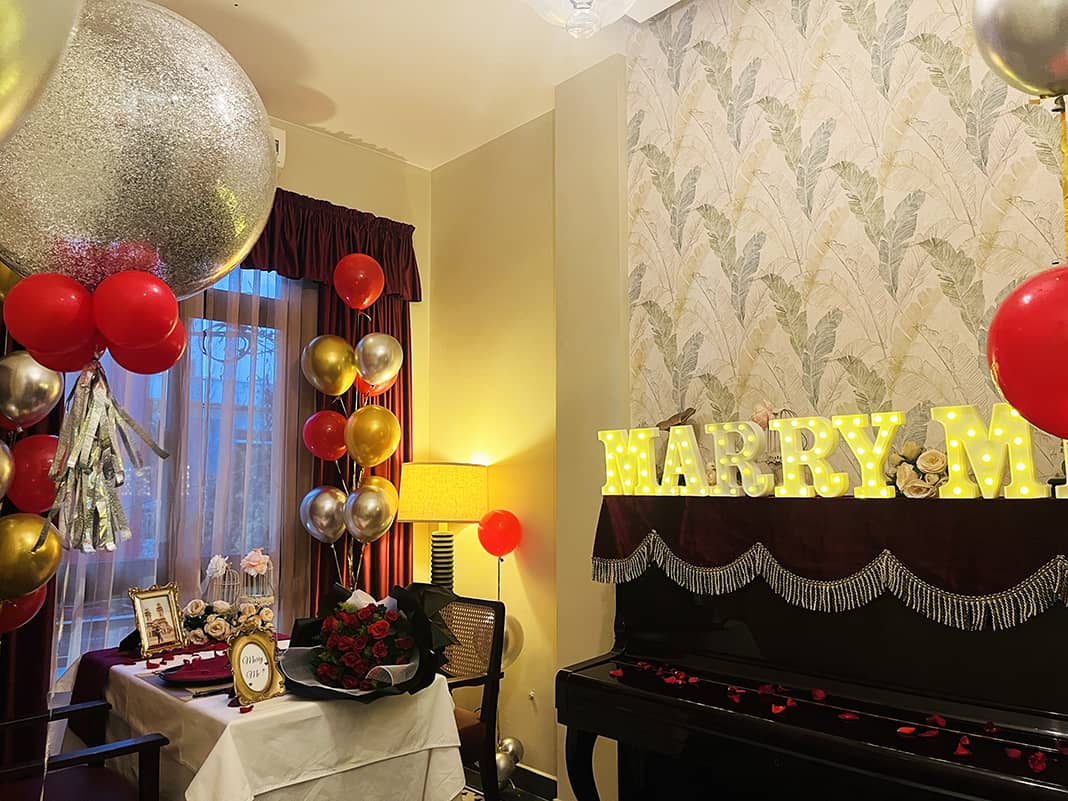 Proposal venue in District 1 HCMC – Maison Mận-Đỏ Restaurant
Maison Mận Đỏ restaurant has successfully organized marriage proposal parties for many couples. We are ready to accompany you on these special occasions:
The restaurant has a private and romantically decorated room suitable for a marriage proposal. With a quiet, sparkling space, full of candles and flowers, it will make her flutter as soon as she enters. The main colors of red and deep brown give her a very familiar and cozy feeling, making her more easily convinced.
Set up and decorate on demand: the space of the proposal room is decorated with images or items that are meaningful to both. Therefore, the restaurant will support you to set up the room according to your wishes.
The menu is diverse and deluxe: Enjoy dinner with Vietnamese Cuisine in contemporary ingredients and setting. Delicious food with wine will add to the romance of the party. With elegant plating and premium quality ingredients, you can enjoy dishes with the intersection of culture between Vietnamese and Western Cuisine.
The venue in Saigon for proposal:
The location of the restaurant is conveniently located at 27J – Tran Nhat Duat – Tan Dinh Ward – District 1, in the heart of Saigon. If you are looking for a romantic restaurant to propose, Maison Mận-Đỏ Restaurant is the right choice.