Coming to your own birthday or someone close to you. You are not sure where to organize, or are you wondering where to choose? In this article, Mận-Đỏ will suggest you "Nice birthday venues".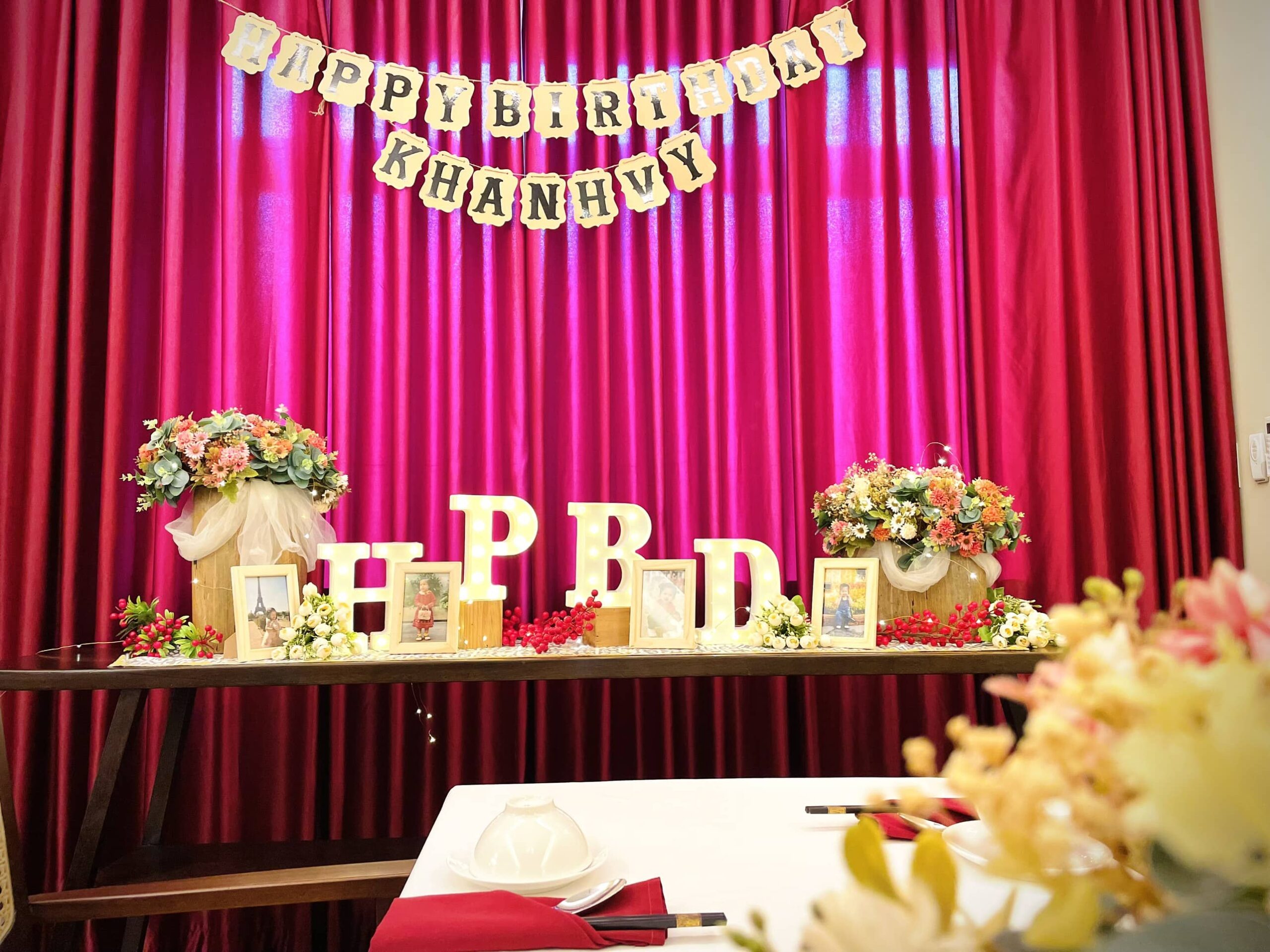 Birthday party at home
Why? Home is a familiar place but never a boring place. You can unleash with the gang of friends "to live it up" without fear of complaints. There is no place as comfortable as being at home. But note for you that you should ask your parents for permission so that they can mentally prepare and support you best.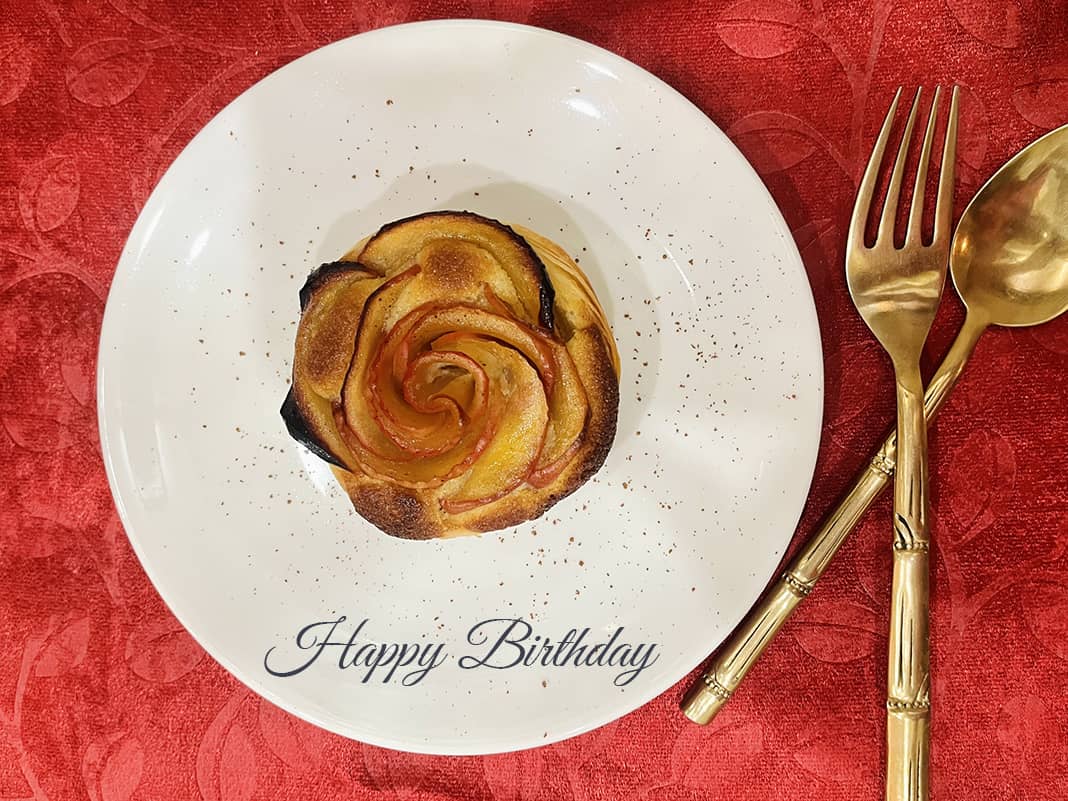 For even more fun when celebrating at home, music is indispensable. You should prepare a playlist of your favorite fun or vibrant music to make the atmosphere bustling. Accompanying the song is a quality speaker, when the speaker is a good quality, the song will be much better. You refer to the standard "WAV" instead of "mp3" for better sound quality. You can buy or easily rent a speaker for your birthday party to chill.
Decoration is also essential for the venue to add fun. Decorating is very important when you are celebrating your birthday at home. A few candles, plus a beautiful birthday hat, also make the space looks more professional and add the right ambiance to a birthday.
In addition to music, decoration, food, gifts are also what make the party perfect. Don't forget to invest more in this part.
While it is comfortable to have birthdays at home, it is also a bit more tiring. You should be prepared for the cleaning after the party, beside the preparation for the decoration and the food is not an easy task. When organized at home you will be happy to have the freedom "to live it up" but will be horrified because of cleaning up the battlefield. One solution for you to not spend a lot of effort and still feel comfortable at home is that home party catering services that include decoration and cleaning.
Celebrating an outdoor birthday
A picnic to celebrate your birthday will be very enjoyable and fun, right? You are traveling while celebrating your birthday and the joy and memories will double. When it comes to picnics, you cannot ignore the sea, mountains, waterfalls, and parks. Depending on the budget that you have, there are suitable options.
What do you think if you celebrate birthdays on the beach, catch the sea breeze and watch the sunset? It's really romantic and relaxing. Why is there only sunset? Since dawn will be too early, you will not prepare in time for the party to be complete, sunset is a better choice than dawn.
When held at the beach, you and your relatives can swim, eat seafood, have fun combined with birthday celebrations. You can set up a decorative holiday tent, bring food to celebrate your birthday. Some reminders for you if you organize at the beach remember to clean before leaving to protect the environment. Do not forget to bring mosquito repellent and have enough cell phone batteries and lights if overnight.
Some beaches to be mentioned such as Vung Tau, Nha Trang, … If anyone likes the wild, they can go to Thanh An or Ho Tram island, etc.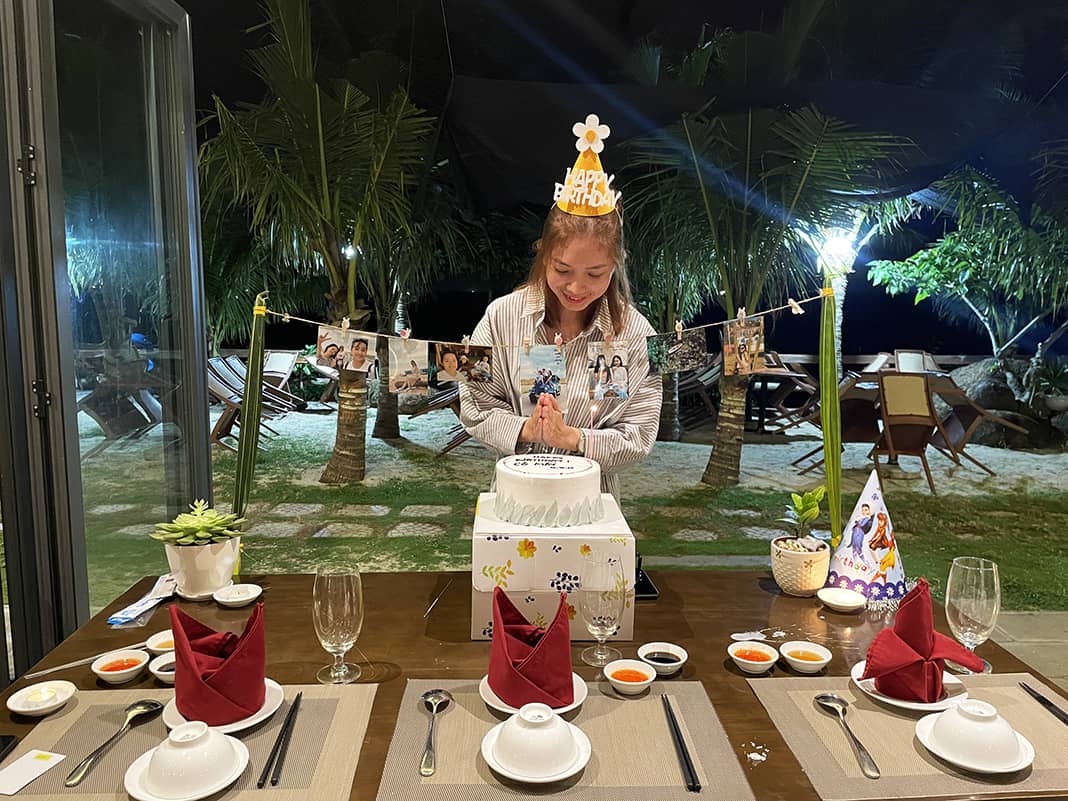 What about celebrating birthday in mountain or at a waterfall? Pristine, majestic, eye-catching and cool are descriptive words when referring to falls and mountains. A picnic in mountain or at a waterfall will help exercising and get you back into shape, in addition to have your birthday adventure. When deciding to have a birthday picnic in the highlands, you must be in good physical condition, equipped with enough warmth and safety tools.
Mosquito repellent, essential medical equipment is indispensable. If you want to stay overnight, you have to prepare enough fuel before dark. When going to the mountain you cannot bring too much fresh food, more dry food should consider. As food is scarce in the mountains than in the sea. Do not forget to take pictures and video record your special climbing memories. As you get older, you will appreciate your youthful photos!
Tay Nguyen in Northwest is the right choice when it come to mountains and forests in Vietnam.
Another option outside the mountains and sea is the park. No picnic far away, you can have a picnic with your family right at the park near your home. You will still enjoy the wind and save money on birthday celebrations. In this case, happiness is still guaranteed, you can consider based on your budget and the weather when going to different locations.
Above are the places to celebrate memorable birthday that Maison Mận-Đỏ would like to share with you. Besides these locations, there are other birthday celebration places like in restaurants, cafes, and in your office. Maison Mận-Đỏ Restaurant wishing you a new age with lots of joy, and hope you choose for yourself a meaningful and joyful place for your new age.