Maison Mận-Đỏ Restaurant is confident that we are one of the delicious Restaurants in Saigon. In such a busy urban area, crowded land, the number of Restaurants is difficult to list. Consumer demand is rising, countless new Restaurants grow like mushrooms. Experienced business people along with potential chefs also choose Saigon to start a business. So, to find a good Restaurant in Saigon is not difficult. Maison Mận-Đỏ is honored to be featured in the top delicious Restaurants in Saigon.
1. About Maison Mận-Đỏ
Maison Mận-Đỏ Restaurant is a well-known Fusion Western-Vietnamese Restaurant in Thao Dien district 2. We focus on health and nutrition issues in customer meals. With the desire to provide some comfort to customers after long working days all the dishes at the Restaurant are prepared with dedication. A classical décor, elegant and cozy, with soothing colors to help you feel relaxed for both lunch and evening time.
The balcony is covered with bougainvillea and shimmering lights to create a romantic atmosphere for Maison Mận-Đỏ. Moreover, we are also famed for the service of wedding party, crib party, company meeting dinner, birthday party, romantic dinner, family reunion with cozy and friendly service.
You can visit anytime the Restaurant at noon to enjoy traditional family meal or Western-Vietnamese Fusion delicate dishes.
2. What's on our menu?
– Vietnamese lunch set: includes three courses, main course (house traditional stewed or sautéed dish), a daily vegetable dish, a daily soup, white rice. (Monday to Friday)
– Noodles for lunch: braised beef with bread, vermicelli chicken soup, vermicelli sauteed with tofu/beef/squid. (Monday to Friday)
– Vietnamese family meal: our best sellers dishes are variety of traditional family dishes from 3 regions.
– Five types of signature hot pot: Beef tail hot pot, Salmon sour bamboo shoot hot pot, Paddy crab & beef heel muscle hot pot, Abalone superior stock hotpot, Traditional beef heel muscle vinegar hotpot.
– The dishes for drinkers are rich and pairing with all kinds of drinks: We have a selection of dishes for you to easily choose while pairing with alcohol.
– Nutritious dishes: We have a selection of nutritious dishes for you and your relatives if you need to enhance your immunization resistance after a long working day.
– Western sets for the dinner: We have full Fusion Western Vietnamese sets from appetizer to dessert with well-coordinated service and well balanced nutrition.
– Custom meals and dishes for party: Most importantly we can tailor new dishes or sets according to request for your only party.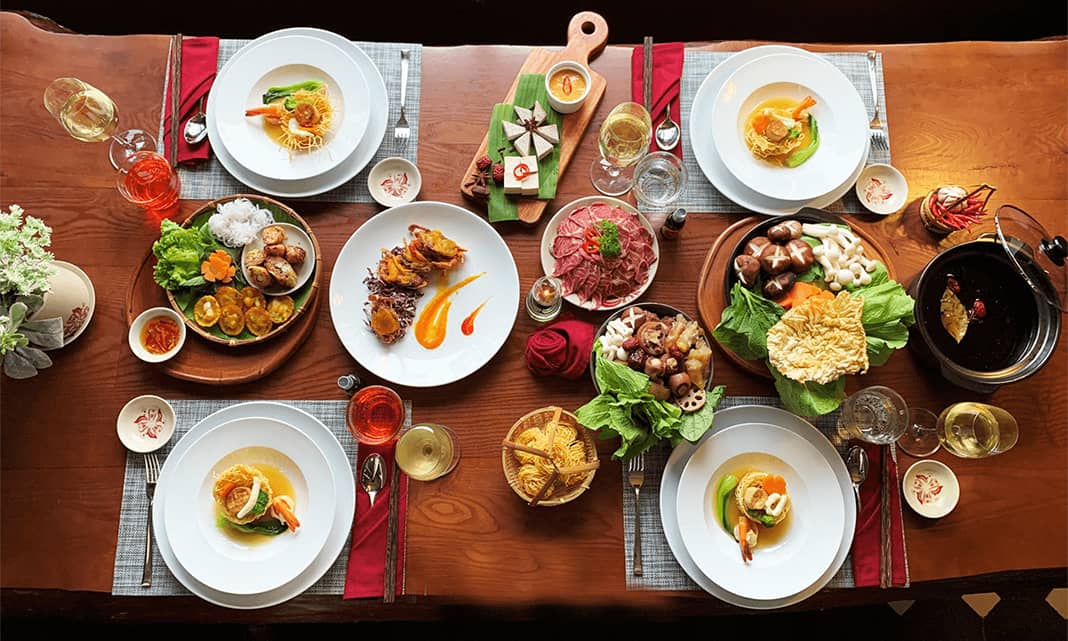 3. Elegant, romantic and cozy space
Why does a Restaurant integrate so many elements? In fact, Maison Mận-Đỏ Restaurant is designed as a colonial old France house but has many elements to create a variety of different spaces.
Its elegance is the result of interior set up of tables and chairs, curtains, decorative cabinets with the special spaces. This atmosphere is suitable for meals, and quiet meetings with corporate or business partners.
The discreet style with shimmering lights also promote romantic climate and result in the great successes for wedding parties or proposal dinners at the Restaurant. Every proposal date at the Restaurant is highly effective as a flirting strategy. It's a bit clumsy, but it's an honest sharing for those who intend to go on a dinner date.
The cozy space is largely thanks to the dark colors of the old-style atmosphere. The space is reminiscent of Vietnamese homes in the early 19th century.
4. The location is a plus for Maison Mận-Đỏ Restaurant.
Located right on Nguyen U Di street in Thao Dien ward in District 2 with developed roads and near the center, the area is smooth driving with less traffic jams. You can move to the Restaurant by main roads such as Dien Bien Phu, Hanoi Highway, route from Vo Van Kiet to Tran Não.
If you would like to visit the Restaurant, please book a table in advance to get the best service.