You are looking for a private dining room for dinner or party, for 2 or more guests, Maison Man-Do Restaurant is ready to serve you and your guests with different needs. We serve Vietnamese & Fusion dishes, tailored at your needs.
We have experience decorating private dining rooms for romantic proposals, cozy dinners for families, large and small corporate group dinners or individuals.
[toc]

What are the private dining rooms of Maison Man-Do Restaurant used for?
– Private rooms for families gathering, members from 2 to 20 people.
– Private dining room for romantic dinner of 2 persons.
– Private dining room for business dinners.
– For birthday and anniversary from 10 to 70 people.
– Corporate parties from 20 to 700 people.
– One (01) year old celebration for baby
– Wedding with booking of the entire restaurant from 100 people to 160 people.
– Buffet Parties
– Free move style parties

What kinds of accommodations we have in our private dining room?
At Maison Man-Do Restaurant, if you book a private room, you will have your own beautiful and quiet space.
The Fusion Western – Vietnamese Set Menu will be tailored to your needs and group size.
You will have a play area for children.
Technical equipment such as sound, light, projectors, karaoke, ….
Especially, we have rooms for customers to entertain with board games…
If you book a private dining room for a party of 20 or more with a set dinner you may receive special offers such as gifts, free party set up, free cockage for wine, and discount price, free desserts depends on the menu you choose.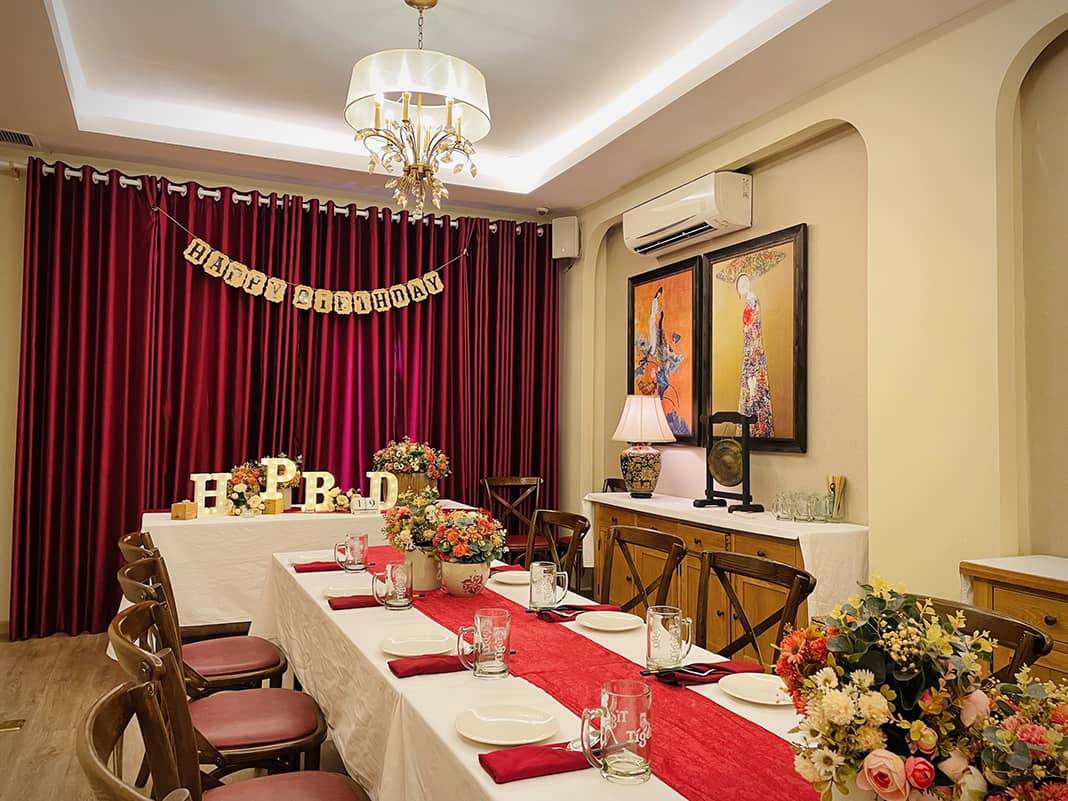 What is the benefit of having private dining room when dining out?
You have private space to enjoy chatting with friends.
Avoid contact with many strangers, ensure your hygiene safety when going out.
Set your own décoration for the room if you love romantism.
Managing children will be easier. In a room, you can comfortably play without worrying that your baby will run too far and be in contact with strangers.
You can easily discuss business, if the meal that day was to meeting business partners, then choosing a private dining room is rightly the best choice.
You can have romantic dates with private dining rooms. If you want to date, let the private space bring you two closer together! Try it, you will see how effective it is.
You can organize parties big or small, you can play jubilantly. If you're shy, you're too young to rent a restaurant to meet strangers sitting near your party. Book a private room for your party right now, let the party chatter, and sing until late at night.
Partying without worrying about messing around with people and not worrying about missing words: sometimes you are too drunk or miss words, you are afraid to look around you in the image of drunkenness. But you still want to drink with friends. The private dining room is a place to hide everything for you to wrap your mind and your cute drunken image.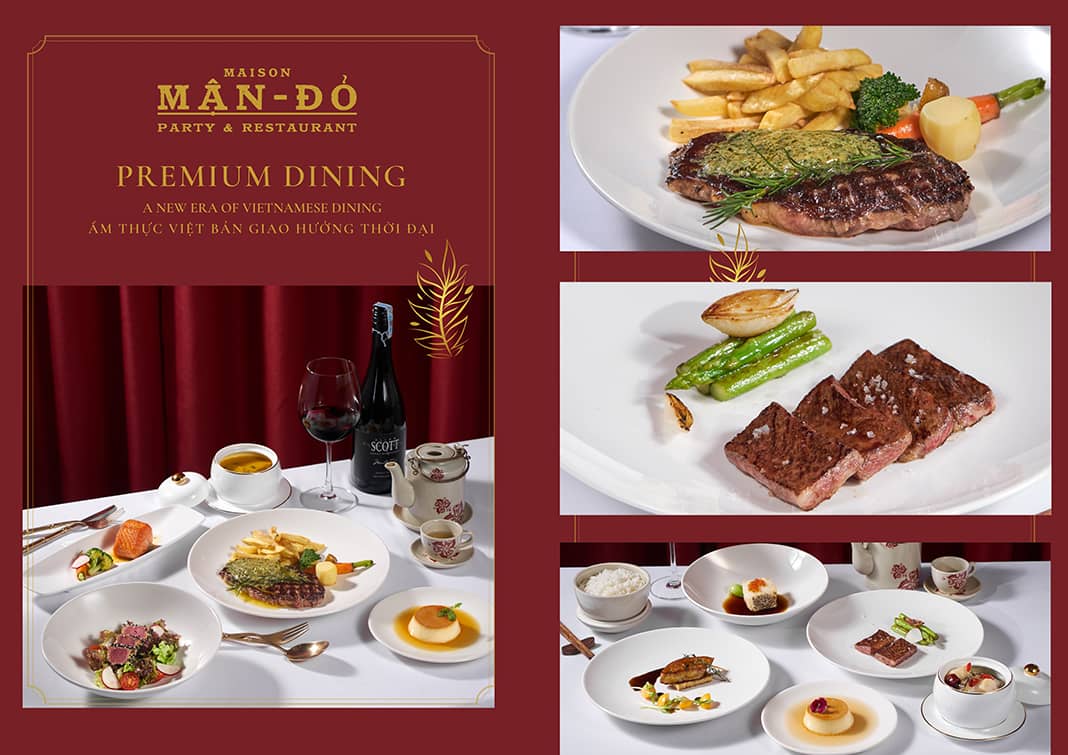 Maison Mận-Đỏ Restaurant has private dining rooms in District 1, Ho Chi Minh City
Recognizing the need to book a private dining room is a common trend of many food and beverage industry after the pandemic. We design rooms that suit the general needs of a wide range of customers who need private dining rooms.
Private dining room for two (02) people: This is a romantic private room for couples in love or married couples. If you want to put more attention to your date, you can order romantic decoration packages.
Private dining room for family: this is a private room designed as a family dining room, creating familial and cozy atmosphere to help family members getting connected.
Meeting room: we have meeting rooms for 10 to 60 people. Full technical equipment for meetings, with special menus suitable for businesses.
Private dining room for business dinners: A private room for meals and business talk needs to be in quiet atmosphere and well presented. To facilitate discussion with your business partners, book a separate dining room at our restaurant.
Party room: Provide private room for parties from 10 to 100 people. Maison Mận-Đỏ Restaurant has experience in organizing parties such as: birthday party, cradle, celebration, wedding, company party … With a diverse and suitable menu style for each party style, with additional decoration packages will make the party more than perfect.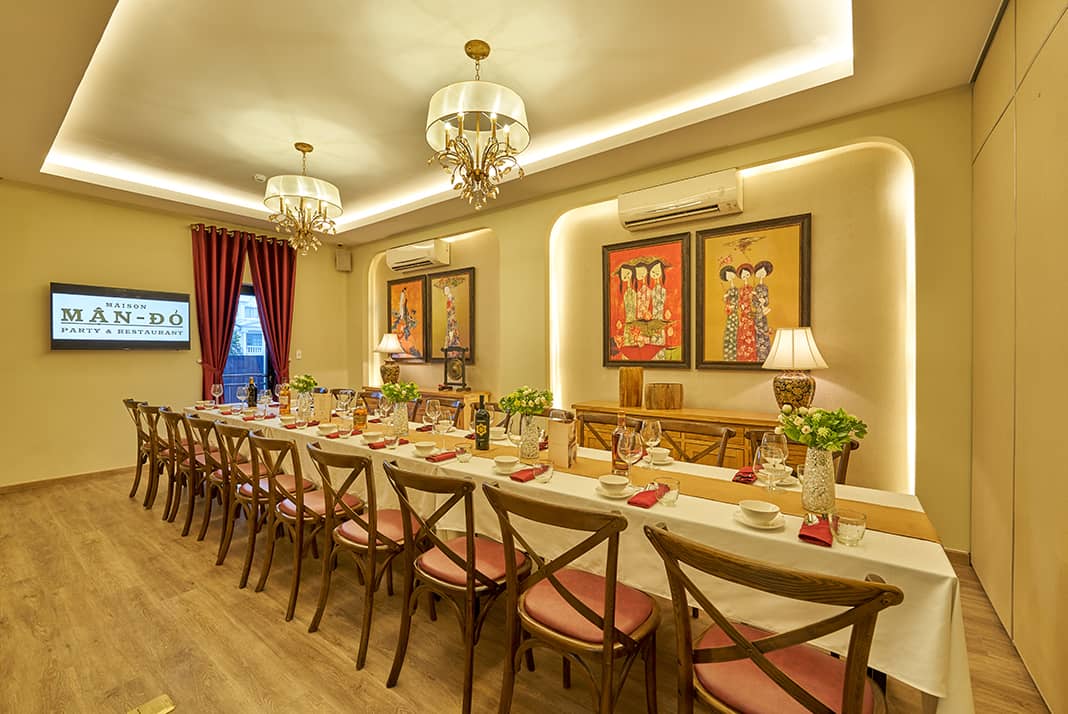 If you are in need of a delicious, beautiful and private restaurant right in District 1 Ho Chi Minh City. Please contact with us by phone number: 0933 77 44 87